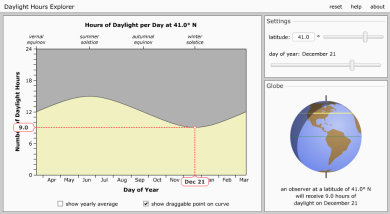 This week's assignment is to explore the following flash application available at this link here. Our goal is to analyze the graph and how the hours of daylight change over the course of year at various latitudes on Earth.
Answer the following questions on separate paper or the answer sheet in your
Chapter 2 Notes packet (page 8 or 10) .
This is to be used as background
for your WORM activity.
1) Examine the daylight hours over the course of the year for the town of Bourne. Use your internet skills to to determine the latitude of Bourne and then adjust the bar to that degree latitude.
When is the longest day of the year?

The shortest?

What days does Bourne receive 12 hours of daylight?

What is the most amount of sunlight Bourne receives?

The least?
2) Work with the animation, think about what you are doing, and then answer the questions.
At what degree latitude do people begin to experience 24 hours of daylight or night time?

Why does this occur on our planet?

What happens to the amount of daylight at the North Pole and South Pole (90 degrees North and South)?  Describe why this occurs.

Adjust the latitude to at least two other latitudes.
Make sure one is in the southern hemisphere.
After analyzing the graphs, write a conclusion stating how the hours of daylight change as someone travels North or South of the Equator

.  What is the relationship between the following vocabulary terms and concepts?.
Be sure you use the following vocabulary words in your conclusions:
EQUINOX
SOLSTICE
ROTATION
REVOLUTION
SEASONS
Alternate Activity:
Do two activities:
              When you complete the activities and get 4 of 4 questions correct,
print the pages that shows you did it and put your name on it!